---
Retention, Change & Communication
We can help your company define the role and purpose of due diligence within the context of integration planning, and bridge from diligence to integration.
Client challenges
Retaining the right people in the organization.

Keep these retained people in the organization after the retention period ended.

Define and set the right retention mechanisms and define internal company retention policy.

Keep the

non

-retained employees engaged
How we can help
We can assist our

clients to define

their retention approach.

We can

quickly

launch our customers' retention programs.

We can take an interim role of retention managers and get the retention program rolled out.
Key benefits
Customers will be able to create an internal retention approach, one that can be applied fast and effectively.

Key employees will be truly retained based on the

employee's

real motivations.

Key employees will continue working within the company.
Lessons learned
Long-term

retention isn't the only mechanism to be applied. In some

cases

, it is better to retain for short term and create a knowledge transfer plan.

There are different retention tools, not only money and bonus based retention.

Attaching to the retention planning KPI's that the retained should meet will improve the retention efforts based on

the creation

of engagement.
---
---
---
---
---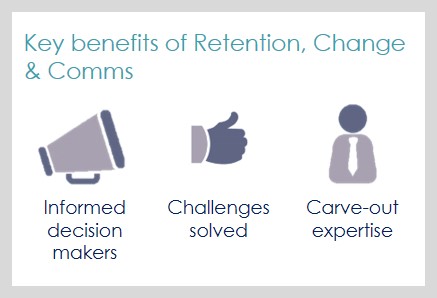 ---
Recent Retention, Change & Communication experience